CPR Certification in Boston
If you are considering CPR certification, Boston is similar to other areas in the USA in that you will have plenty of classes to choose from. Both the American Red Cross and the American Heart Association offer training programmes to meet the needs of this area.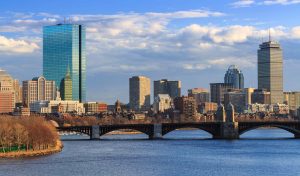 Carlton Smith took part in the 2010 Boston Marathon. During the race his heart stopped and he is certain he would have died had it now been for the fact that his son who was also running knew CPR. Mr Smith jr was assisted by a cardiologist and both kept Carlton alive until the EMS team arrived and used an AED to shock his heart.
Carlton made the video below to help raise the profile of the Boston Heart Ball and as a result increase the funds raised for the vital work carried out by the American Heart Association. Mr Smith is only one person that has been saved by someone who knew CPR yet was not a doctor. His survival proves what we at LearnCPRonline.net have been saying all along. We need more people to attend CPR classes to learn these life saving skills.
Boston CPR Training and AED Provision Could Change Law
Increasing numbers of Boston residents are coming together to put pressure on the State legislature to change the law and make it compulsory for schools to provide access to automated external defibrillators. They also want more people trained in CPR so that if an emergency occurs someone will be able to work the automated external defibrillator. These devices are quite intuitive and it is possible for people to successfully operate them without receiving training but it is obviously better if the operator has attended a CPR class.
Milford High School Hockey Team Survivor has also inspired support for this legislation
Also supporting this legislation are the founders of Hearts 4 Hockey. The Burns, a father and son team started this group after the near fatality of Tyler Symes, one of Milford's High School hockey team when he was hit in the chest by the hockey puck during a game. This freak accident caused his heart to stop. Luckily for Tyler, the team trainer was a nurse and the school had a defibrillator on site. The combination of immediate CPR and the use of an AED is credited with saving Tyler's life. Although Milford had a defibrillator to hand, many schools in Boston don't.
This near tragedy inspired the Burns to try to make a difference. By following a program of campaigning and fundraising, they try to persuade local businesses and emergency services to donate defibrillators to schools in the area. But although they have made fantastic progress, their efforts cannot cover the whole state. Given the relatively low cost of an AED (circa $1200) and the fact that they are proven to save lives if used within the first five minutes of cardiac arrest, surely all schools, education facilities and sports teams should have these devices in place. The fact is that young and apparently healthy children, teenagers and young adults can suffer a cardiac arrest. Isn't it time that the people who pass the Law realize that we need to do more for our kids. That is the hope of Laura, the Burns and many other Boston residents. Time will tell if the legislator will listen.
Young Kids Use Boston CPR Training to Save Lives
Kids have been known to save lives after attending CPR training sessions. A twelve year old student from Winthrop, MA saved her mum after putting what she learned from a babysitting CPR class. She resuscitated her mother while her Dad called 911. Why were the roles not reversed? After all you would expect the child to make the call and the adult to be the rescuer wouldn't you? But in many instances adults don't have the skills needed to save a life. They can also freeze or panic especially if it is their partner who has fallen ill. Therefore it is vital to have all family members properly trained in first aid skills. If this isn't an example of why children should attend CPR classes, then what is?
The American Heart Association suggests that so long as your child is mature enough to understand the information they are learning and have the physical ability to put it into practice, they should attend basic first aid skills. While they don't need CPR certification and other areas need more bystanders who are able and willing to go to another person's aid. New legislation like that outlined above, education and raising community awareness are some ways to reduce the numbers dying from sudden cardiac death.