Infection Control Measures in First Aid
Blood and body fluids such as spit, vomit and feces have germs that can be passed to others. It is important to practice infection control measures to prevent the spread of germs when giving first aid or care. Basic hygiene and handwashing, good safety and precautionary measures, and common sense are important to reduce infection.
There are four main infection control measures first aiders and first responders can take to prevent infection:
Effective hand washing
always wash hands before and after giving first aid and care
if blood (or other body fluid) splashes into eyes or mouth, rinse them immediately with plenty of clean water
Proper handwashing with soap and water
Wet your hands with warm, running water and apply liquid soap or use a clean bar of soap.
Lather well. Rub your hands vigorously together for at least 15 to 20 seconds.
Scrub all surfaces, including the backs of your hands, wrists, between your fingers and under your fingernails
Rinse well.
Dry your hands with a clean or disposable towel.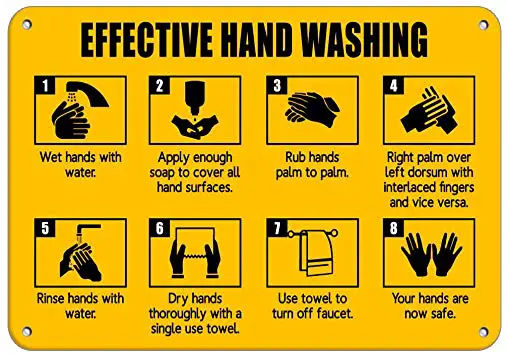 Cover any cuts or open wounds on hands
cover any cuts, grazes, or other open wounds with plaster, clean cloth or bandage
if possible, wear disposable gloves
alternatively, use a clean plastic bag as a barrier before coming into contact with blood or an open wound
Avoid direct contact with blood:
if a person is bleeding, ask him/her to put pressure on the wound himself/herself
if no disposable gloves are available, use plenty of clean gauze, thick dressings or a plastic bag as a barrier to avoid direct contact with blood
Clean up blood spills:
dispose of bloodstained dressings as clinical waste
wear personal protective equipment (PPE) when handling clinical waste